Please use full screen mode.
Saint John Bosco hears confessions in a field.
….he adopted St. Philip Neri's words: "Do as you wish, I do not care so long as you do not sin."
1914 Catholic Encyclopedia
"The 'catholic church' is our enemy!! We lost the war!"
"The most 'catholic' people we know are the Amish! David Troyer's family!"
Miss Janet Marie Hannikman+
The Four Sins Crying out to Heaven for God's Justice
or
 Sins Crying to Heaven for God's Vengeance.
Willful murder.
    The sin of Sodom.
        Oppression of the poor.
                 Defrauding laborers of their wages .
Because of their malice (they are all sins against society), they seem to call for punishment by a special act of Divine Justice.
                         Catholic Encyclopedia
                                      1951
"Sin is the only problem. Joy is freedom from Mortal Sin."
Fr. Bede Kotlinski O.S.B., Latin Mass, Indult. Novus Ordo, Hybrid, Polka?
"Sin is the cancer that destroys souls."
Fr. William Jenkins, Priestly Society of St. Pius V, exclusively Latin Mass.
" When souls fall into Hell they stay in the same position in which they arrived…. forever."
St. John Bosco, exclusively Latin Mass.
Forever. Forever. Forever.
The three words that , after hearing them, that changed the life of St. Teresa of Avila: forever, exclusively Latin Mass.
" Be nice to the animals…this is the only life they have."
St. Therese of  the Child Jesus and the Holy Face
exclusively, Latin Mass.
"There will come a Plato who will be understood! a Socrates who will drink no hemlock! and a Jesus who will not die upon the cross !"
Margaret  Louise Higgins Sanger, exclusively Latin Mass...until...
From: Fr Joseph
Christmas Greeting.
Christ is Born, Glorify Him!
Apolytikion for HOLY NATIVITY in tone 4
Fr. Peter Carota post January 16, 2015 …. 34 years later….
"Catholics should not feel they have to breed "like rabbits" because of the Church's ban on contraception, Pope Francis said on Monday, suggesting approved natural family planning methods.
"Some think, excuse me if I use the word, that in order to be good Catholics, we have to be like rabbits – but no," he said, adding the Church promoted "responsible parenthood".Yahoo News
Also I read that on his trip to the Philippines he said that the Church "still", (as if it can change doctrine), holds its prohibition of birth control.  But, he added, in the confessional, priests should be lenient.  That is like saying, I up hold Catholic marriage, I condemn birth control, but I will absolve you when you decide it is "moral" for you to use.
That is exactly what caused the sexual revolution in the Catholic Church.  Humanae Vitae came out, but in confession, at the pulpit and a conferences, it was being told it was up to your conscience.  And now, most Catholics "happily" use birth control and make sacrilegious Holy ( are they??) Communions every Sunday.
 mockery.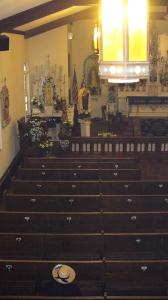 Miss Janet Marie Hannikman+
A soul from conception !
Number of  fraud 'divorces' inside this building? Zero! Number of fraud 'annulments'? Zero!
The lowest level of Dante's Inferno?
Fraud.
Punishment for this fraud is very near the Devil who is endlessly thrashing about in black  ice. Forever. Why?
Fraud takes the most Free Will…that within us that is most like God….
'His Image':
The Mystery of Free Will.