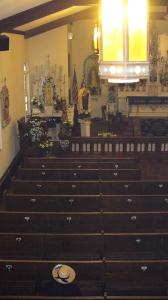 Miss Janet Marie Hannikman+
A soul from conception !
Number of  fraud 'divorces' inside this building? Zero! Number of fraud 'annulments'? Zero!
The lowest level of Dante's Inferno?
Fraud.
Punishment for this fraud is very near the Devil who is endlessly thrashing about in black  ice. Forever. Why?
Fraud takes the most Free Will…that within us that is most like God….
'His Image':
The Mystery of Free Will.