Margaret Mary Labanara is to the left looking up with understanding and moving forward, I'm below obviously perplexed. Byzantine Priest Father Michael Ukrainic is blocking both of us from the flames of Hell. He, being a Byzantine Priest, is symbolized by the three horizontal lines above his head, (Trinity) and has both red of the flames, , fallen nature, and gold of the Icons, Holiness, within. He points to me holding me accountable with my Free Will, points to the flames coming up from the earth, and to the gold leafed icons, and to the Sun/Son. This all takes place in the black void; the absence of the 'Sun/Son'. The 'Sun/Son' to top right is black in the center because if one looks directly at the 'Sun/Son' they are black….try it. See the black disc? It can't be looked at directly.  Neither can God. "That light which puts out our eyes is darkness to us. " The Poet. I painted this 'glyph' mural before I knew any of what I have written here. The 'pentamento' seen and described below was a complete surprise. It still is.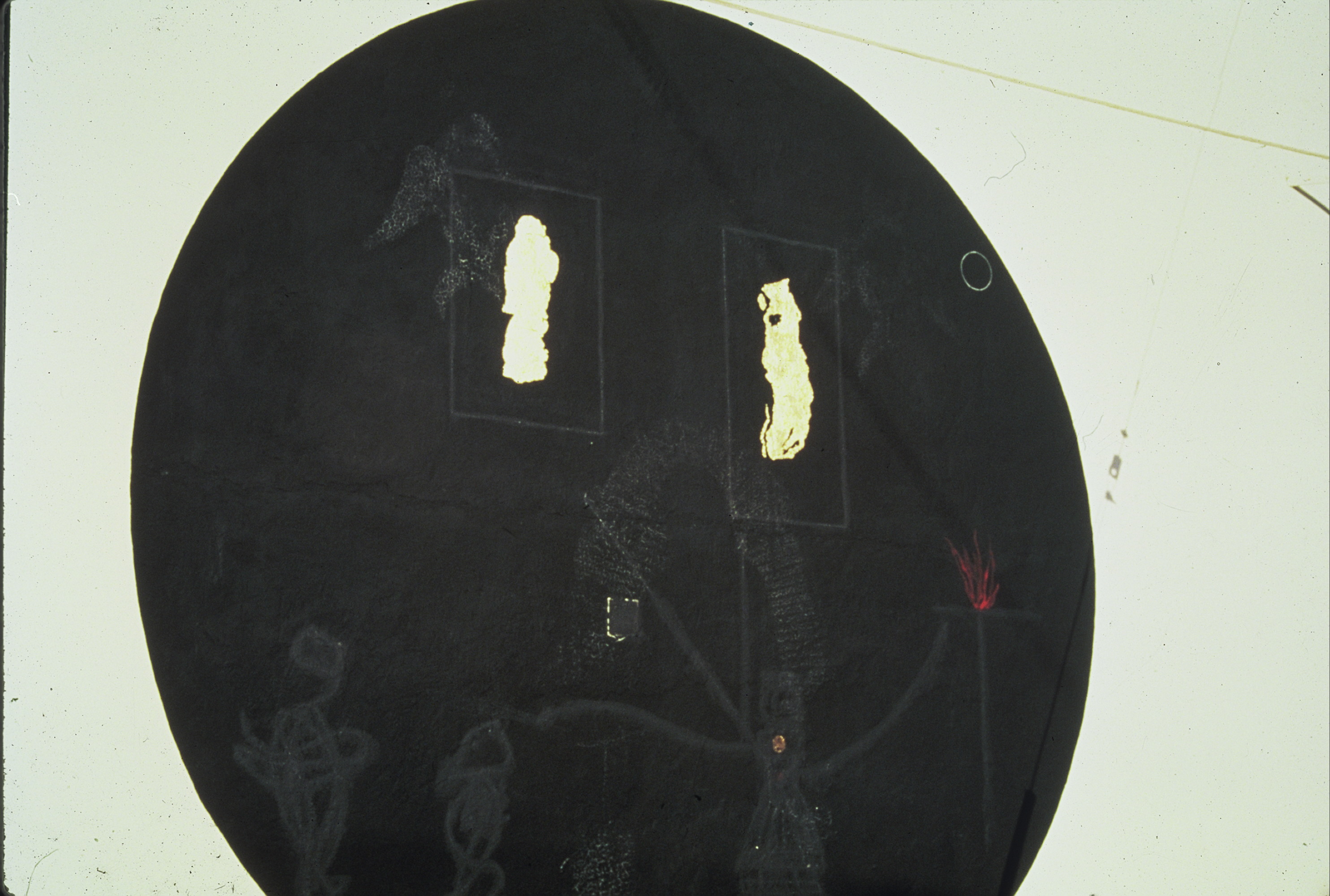 A 'pentamento' of a previous  image of  The Virgin of Guadalupe and two putti (angels) that had been painted behind ICONS began to appear. I  slowly blacked out some of my images. I left the flames, 'icons', the Sun/Son, and the 'pentamenti'.
 A 'pentamneto': when a previously painted image slowly appears through a newer over-painted image.
A Pentamento of The Virgin of Guadalupe and two putti (angels) on ICONS mural …long ago..far way…
posted on:
THE FEAST of the VIRGIN of GUADALUPE
December 12th, 2014  
"Oh, Ed…I love the Virgin of Guadalupe…"
said by Mrs. Catulli (Maureen Rodriguez ) on her birthday, December 12th, after viewing the above ICONS mural with it's
pentamento
of
The Virgin of Guadalupe… and two puti …
long ago…far away…as we stood in the late afternoon sunlight.
Feast of the Assumption of Mary into Heaven in both Body and Soul,
new procession cross we made begins leading procession 2007 to an
accompaniment of an Italian dirge: a traditional death march,
played by The Italian Band of Cleveland (Ohio), (dirge coming soon) bells ring, sinners follow, odd wind blows on "Irish Hill", Corning, New York, twists large tree and it covers our house on W. Second St…..resulting in photo below of Margaret Higgins's (Sanger) child hood home…, a few doors way…and rain drops. Story coming.
Virgin of Guadalupe print, September 8, 2007, Feast of the Nativity of Mary, Margaret Louise Higgins Sanger childhood home West Second St. Corning, New York. a Semi- Traditional Catholic family of 12, …and rain drops. Better photos coming. and more story… "Doesn't that photo scare you !?" Mrs. M. Andrews.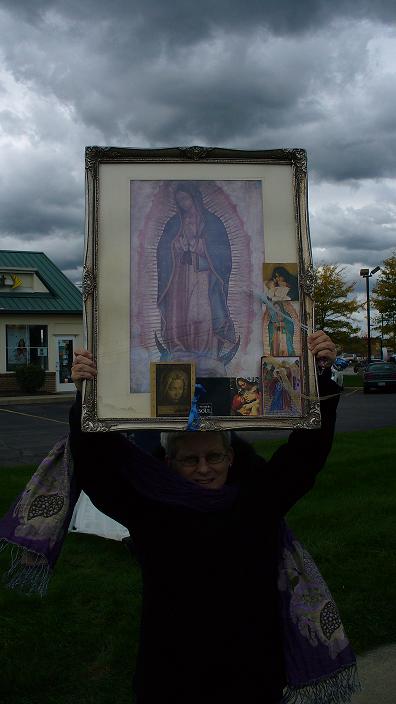 Miss Janet Marie Hannikman+ holds, in an act of strong militant public resistance,  a print of The Virgin of Guadalupe, once given by Mrs. Edward Kish Sr. to Mrs. Rosemary Labanara, who was very ill. The print then found it's way to Corning, New York and the Margaret Higgins Sanger childhood home many years later, (see photo above.) on West Second Street, Corning, New York, as a result of a large tree being blown onto another nearby house on West Second Street by an odd intense wind on a clear cloudless day during the Feast of  the Assumption Procession on August 15, 2007, in Little Italy, Ohio, as the procession was being lead by a cross made by Miss Hannikman+ and an associate, with hands on assistance from her very close dear friend Mrs. M. Andrews. The cross was made from the wood of a massive and beautiful! crucifix cross  brought from Italy to Little Italy in 1928. The photo above of family and house, was taken on St. Mary's Birthday, The Nativity of Mary, Sept 8th. 2007, showing the print, a family of twelve, and rain drops…in front of the Margaret Louise Higgins Sanger childhood home.  This family had helped in removing the massive tree that had fallen, as a result of an odd 'wind', on another West Second St. house a few doors away, on August 15th, 2007.  The attached cards that can be seen in the photo that is above of Miss Hannikamn+ holding the print, are, from left to right: a promotion card for the sale of a book about Mary by Abbot Joseph Homick, Mt. Tabor Byzantine Monastery. (Miss Hannikman+  sold over 100 copies, inside Presti's Italian American bakery during the Feast of the Assumption.) a MOTHER AND SOUL TM Mother's Day promotion mailing for Edward Kish & Co. corning new york inc., a fund raising card of The Visitation donated by Icon writers  Christine and Nichols+ of Eikona Studios, hundreds of which  Miss Hannikman+ attached to baby bottles with large beautiful ribbons for a fund raising drive. (She raised over ten thousand dollars with these drives.), a Virgin of Guadalupe card with ribbons used for the same drive a year later, and the famous image of a 'mother and child' (Jesus and Mary) titled ' Our Lady of the Streets'  by ?, Miss Hannikman's+  favorite image*, ("It's my favorite Mary image!" jmh+) that was also used  by Margaret Louise Higgins Sanger in her September, 1921 publication promoting contraception,  'The Birth Control Review'.   However; in her use of this image for her publication,  Mrs. Sanger removed the halo around Mary that can be seen in the original painting. As author and Jewish convert to Catholic Tradition, Elasah Drogin T.O.P. has said, in her book,' Margaret Sanger: The Father of Modern Society', '…she changed this image to demonstrate the evils of motherhood.' Please read that sentence again…
* Miss Hannikman+ came upon this image in an interesting way. She purchased the book,' Margaret Sanger; Father of Modern Society' by Elasah Drogin T.O.P., a Jewish convert to Catholic Tradition who has ten children  and one husband, at Tilma book store.  The person she was with at the time, who never buys 'holy cards', noticed a small basket with some cards in it. On a whim, a little internal push, a kind of 'insight', similar to those that he has had so often over the years since he was about twenty – seven or so, he purchased all of the cards available: one hundred.  They left Tilma book store, and while in the car before leaving for home, she opened her new book. He looked at his new one hundred holy cards of  'Our Lady of the Streets'. She showed him a graphic of ' Our Lady of the Streets', in the book she had just purchased, that had been used by Margaret Louise Higgins Sanger in ' The Birth Control Review ' September, 1921. This image did not have the halo of the original. It had been removed by Mrs. Sanger. He then showed her the one hundred holy cards he had just purchased each showing the same image but with the original halo. She said, " I need a drink!" He said, " Yeah,…me too…" Neither of them 'drink'; ever. They drove in silence.
The print in the photo above has been blessed, after close attention to the added images, by Reverend Father William Jenkins, Priestly Society of St. Pius V.  at the communion rail of St. Therese Church. So has Miss Hannikman+…. forever.
" At the Holy Communion rail at St. Therese's it's like Heaven!!" jmh+